Talleres en Residencia MAM Chiloé 10 al 27 enero – Courage Works
Artistas: Kevin Mayo (artista y antropólogo / artist and anthropologist) and Sue Hayes (profesional del teatro y conservacionista / theatre maker and conservationist)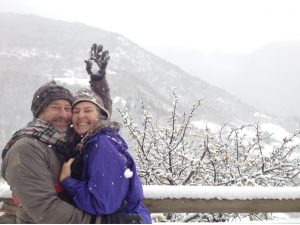 COURAGE WORKS / Durante nuestra estancia de 2 semanas en el MAM Chiloé esperamos explorar los temas en torno a "Sentido de Lugar y el otro Exótico". Durante el mes de diciembre viajaremos por Chile, mientras acumulamos material y experiencias que servirán de base a nuestro trabajo durante nuestra residencia, así como también nuestra estancia real en la isla. Tenemos la intención de utilizar fotografías, técnicas mixtas, dibujo, texto y algunos elementos performativos con la posibilidad de una modesta actuación el día 26 de enero, que es también justamente el 'día de Australia'. / During our 2 week stay in MAM Chiloe we hope to explore themes around 'Sense of Place and the Exotic other'. We will be gathering material whilst travelling around Chile during the month of December and it is these experiences that will inform the basis of our work during our residency as well as our actual stay on the island. We intend to use photographs, mixed media, drawing, text and some performative elements with a possibility of a modest showing on the 26th January which is also fittingly 'Australia day'.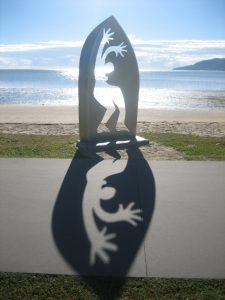 KEVIN MAYO / Es un artista australiano con sede en Cairns, en el norte tropical. Ha expuesto en Australia y Europa, y tiene obras en los EEUU, Inglaterra, Alemania, Australia y Nueva Zelanda. Su práctica incluye la pintura, impresión, fotografía, escultura, jardinería, diseño/construcción de escenografía, títeres, escritura, narración de cuentos, e instalación. El 2012, Kevin y su esposa Sue Hayes realizaron una residencia artística en el Centre d'Art i Natura de Farrera en los Pirineos españoles. Kevin también tiene una vida como antropólogo. Para obtener su doctorado con la Universidad Nacional de Australia, realizó 2 años de investigación de campo en el Himalaya indio cerca de la frontera tibetana. Kevin ha dado conferencias en antropología para la Universidad James Cook, ha trabajado como investigador de la salud de los indígenas de Australia, y actualmente trabaja en las reclamaciones de títulos nativos. Kevin ha viajado extensamente en Australia, Nueva Zelanda, Europa, Japón, Asia del Sur y Sudeste de Asia. Esta es su primera vez en una costa americana. / Is an Australian artist based in Cairns in the tropical north. He has exhibited in Australia and Europe and has works in the US, England, Germany, Australia, and New Zealand. His practice includes painting, printing, photography, sculpture, gardening, set design/building, puppetry, writing, storytelling, & installation. In 2012, Kevin and his wife Sue Hayes undertook an arts residency at the Centre d'Art e Natura in Farerra in the Spanish Pyrenees. Kevin also has a life as an anthropologist. For his PhD with Australian National University, he spent 2 years field research in the Indian Himalayas close to Tibetan border. Kevin has lectured in anthropology for James Cook University, has worked as a researcher in Australian Indigenous health, and currently works on Native Title claims. Kevin has travelled extensively in Australia, New Zealand, Europe, Japan, South Asia, and South East Asia. This is his first time on an American shore.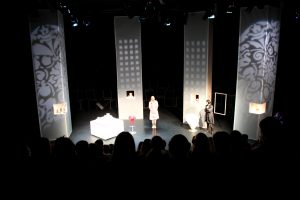 SUE HAYES / Cada uno de nosotros ha sido formado por los acontecimientos que suceden en nuestras vidas y que informan quiénes somos, por qué hacemos las cosas que hacemos, lo que creemos, lo que es importante para nosotros y lo que le da sentido a nuestra vida. Soy una apasionada de mi comunidad, mi entorno y el arte y la cultura que me rodean. Mis antecedentes y de hecho mi vida, es en torno al teatro y en él llevo muchos sombreros, de actriz, dramaturga, directora y profesora de teatro. He trabajado en muy diversos proyectos, desde el facilitamiento de talleres de circo a los indígenas australianos, el desarrollo de performance con personas con enfermedades mentales, animando las colecciones de museos, cuentacuentos colectivos con los refugiados butaneses, teatro físico, coreografía, danza y teatro de sombras en los Pirineos españoles. También he sido una embajadora del medio ambiente como parte del 'Climate Project' de Al Gore en la difusión del mensaje sobre el Cambio Climático a los australianos. El lema de mi vida es que: "La vida no se trata de cuántas respiraciones tomamos en cada momento, sino de cuántos momentos nos quitan el aliento" (Hilary Cooper). / Each of us are shaped by the events that happen in our lives, and they inform who we are, why we do the things we do, what we believe in, what is important to us and what gives our life meaning. I am passionate about my community, my environment and the art and culture that surround me. My background and indeed my life, is in theatre and I wear many hats from performer, playwright, director and theatre lecturer. I have worked across very diverse projects from facilitating circus workshops with Indigenous Australians, performance making with mentally ill, animating museum collections, collective storytelling with Bhutanese refugees, physical theatre, choreography, dance and shadow puppetry in the Spanish Pirineos. I also have been an environment ambassador as part of Al Gore's Climate Project on spreading the message to Australians on Climate Change. My life's mantra is that: 'Life is not about how many breaths we take each moment, but how many moments that take our breath away' (Hilary Cooper).